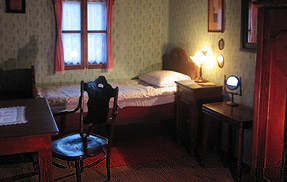 Daily rent of the main house:
95 euro
Special prices for Christmas/ New Year holidays
PRICES
Minimal stay is two-days in any of the cottages.
During Christmas and New Year holidays, minimal stay is three-days and the price is 180 euro per day and includes using the barn
MAIN HOUSE (capacity 5 persons)
Regular price per day
(except Christmas and New Year holidays):
95 EURO
Booking is confirmed after the payment of 20 - 30% of the whole stay price is pre-paid.
Cottage Marica (for 1 person)
This is a small one-room traditional cottage from the first half of the 19th century and will be a discovery for those fond of rural history. Either it can be rented with the main house or with the cottage Juraj (it uses their bathrooms).
Price: 15 EURO
Special arrangements for holidays
During the holiday times (23 December – 3 January) the house is rented for the minimum period of three days and the usage of the barn for the Christmas Eve of New Year's Eve party is included in the price. The accommodation costs 180 EURO per day.
PETS
We welcome dogs but the bonton has to be obeyed.